Last Sunday we visited the National Museum of Film, Photography and Television whilst in Bradford.


There are some great interactive exhibits, including two walls of LEDs which react as you walk past:
these are the TV equivalent of a hall of mirrors:
Jon lay on this bed:
and his image was projected onto a second bed across the room mixed in with dream like images of people swimming:
Worrying that Pac-Man is now a museum exhibit:
The TV Heaven exhibit is going to be killed by video on demand - they have hundreds of old TV programmes which you can watch in a cubical, i chose Catweazle which i must say was still cracking: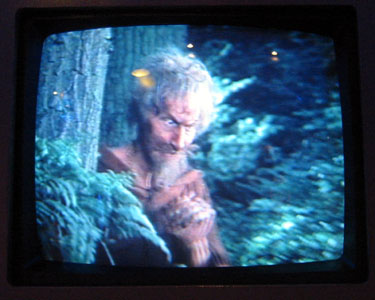 Lack of time meant skipping the traditional hangover test - the IMAX cinema. It's nice to note that they now show more mainstream films than endless repeats of The Dream is Alive.
The garden themed Everything's Gone Green exhibition was fun, i particularly liked the Joel Sternfeld photos of a disused railway in New York:
The Simone Nieweg exhibition - large format pictures of bare fields and allotment sheds got mixed reviews in the visitor's book: